Starting the trip
-
Apr 30, 2020
For the past few weeks we have been in constant contact with different figures and entities from the esports ecosystem. It is part of the esportslink's philosophy to be in constant evolution and adaptation according to the changing needs of the esports industry. With that in mind, and thanks to the feedback we collected, today we would like to share with you some of the latest functionalities we have implemented in the platform.
References
After talking at length with teams including UCAM Esports (Spain) and EGN (Portugal) as well as well known figures such as Scrappy Doo we came to the conclusion that for scouts it is of huge value to have personal references about a player they're interested in. Now, in esportslink, you have a space in your profile to highlight references from your past teammates, coaches or, even, from a respected player on your circle.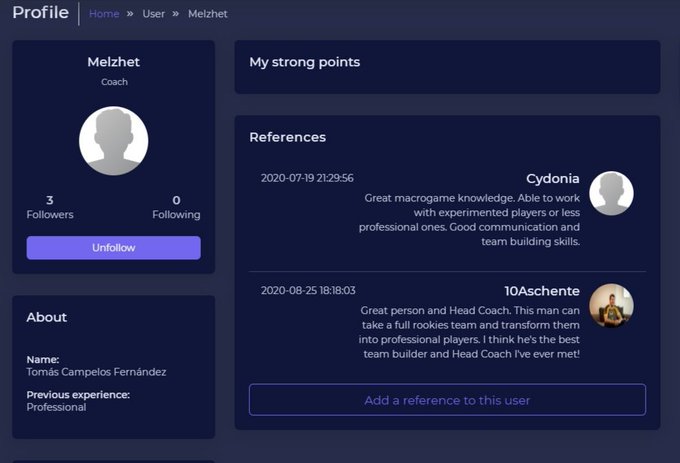 Public player profiles
Many of the players that we have been talking to lately have expressed the process of announcing that they are looking for a team is a nuisance and they often have to improvise a CV or contact a designer to do it for them. In esportslink we want to become the digital and constantly growing CV for all players (especially if they are LFT), this is why we have made player profiles public via link. Now players can incorporate their esportslink profile in their LFT tweet and show their history, stats, references and strong points to scouts.


Services & new types of profiles
For the past few months we have been having an internal debate around if we should open our platform to other profiles such as legal, marketing, management, etc. Our focus is always going to be in providing a quicker and more effective tool to grow professional relationships between teams, players and staff members. However, on the very first day of our public beta release we corroborated that there is a real demand for these profiles so we added 'services', a space to advertise your professional services as a manager, content creator, marketer, psychologist, legal counselor, CM, designer, video producer/editor, audiovisual producer or caster to our registered players, staff and teams.


Other changes
Players can have their past teams validate their experience on their profile. We have modified the information that shows up on your dashboard to fit only relevant content for each user. We introduced a new filter, 'residence', in advance search.


Top talent LFT
Coaches and team staff have been telling us they wanted a quick way to spot the most talented players that are looking for a team inside esportslink. Following their feedback we introduced the 'Top talent LFT' list, a constantly updated elo ladder of our registered players that are currently looking for the next chapter in their esports career.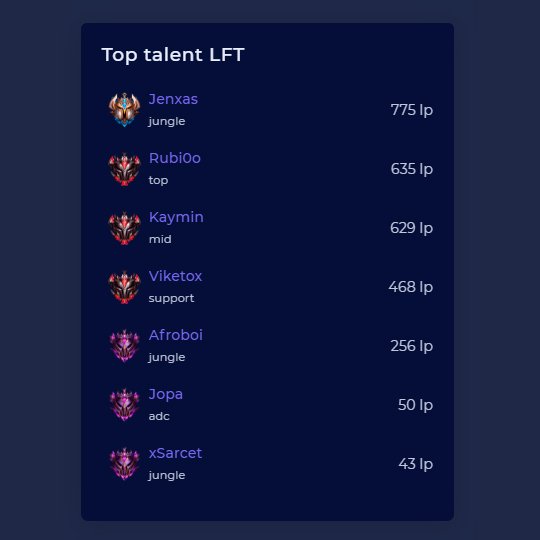 Bug fixes
We would like to thank all our users for reaching out to us and helping out by reporting bugs and errors. If you've been having issues with the platform in the past, maybe try again now. Our dev team is committed to build a flawless user experience for everybody. We're working on it!


Feedback is truly important for us, so if you belong to an organization or have interesting thoughts as a player or staff reach out to us, our desire is to develop the platform that better suits your needs. Huge thanks to all our users for their help!

This is all for now. See you soon for more new stuff!